To purchase DesignFreeQ, please download the corresponding demo version first, then contact us at info@cosmoworks.de to purchase the registration code for 129€. The registration code binds a single instance to one specific computer. Please make sure to send us the UUID from the Help/Activation dialog and we will generate and send you a registration code to activate DesignFreeQ on your computer. Once you receive the registration code, enter it below the UUID in the Help/Activation dialog to enable all functionality of DesignFreeQ.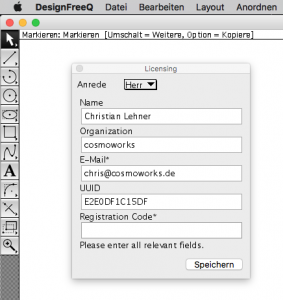 To purchase a dongle, please let us know at info@cosmoworks.de and we send you an USB stick which enables DesignFreeQ on one Windows or Mac computer at a time. The dongle costs 299€. You can upgrade from registration code to dongle any time by paying the difference.
The app store versions of DesignFreeQ are available from Apple or Microsoft.
Should you require a Japanese version, please contact info@shark-designer.com to purchase dongle and CD from Japan for ¥54,000.